The Costa Verde forms much of Spain's northern coastline. Especially the province of Asturias. Other areas considered part of this Spanish Costa are Galicia and Cantabria. The Costa Verde (Green Coast) extends into part of the Basque Country also.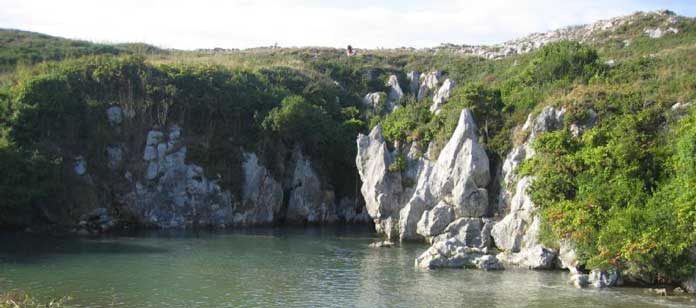 This lush area of Spain could almost be Ireland or the west coast of France. The green landscape with rolling hills and valleys add to the beauty of this location. Some forests here reach the northern coastline, overlooked by the majestic Catabrian Mountains.
The Costa Verde Climate
Costa Verde's climate is one of the mildest in Europe. The average summer temperature is 20 Celsius. A superb destination for visitors who enjoy the Spanish lifestyle and gastronomy. Even better if the extreme summer heat from further south is overpowering. The average temperature in the winter months is around 7 Celsius. The climate here attracts outdoor enthusiasts such as hikers and rock climbers.
Gijón, The Costa Verde's Biggest City

The largest city on the Costa Verde and also in the autonomous community of Asturias is Gijón. Lying in the Bay of Biscay, this city is home to a busy shipping port. The roads are excellent with Gijón Railway Station providing good transport links.
Visitors seeking a bit of culture can enjoy an the many museums and libraries. This area has many historic buildings and monuments to enjoy. Cultural events take place throughout the year, including the popular International Film Festival.
The headland of Cimavilla boasts some interesting buildings, parks and plazas. This separates the city's two main beaches of Playa de Poniente and Playa de San Lorenzo.
Llanes y Picos de Europa
The charming town of Llanes is one of the most popular tourist destinations on the Costa Verde. Llanes boasts a busy fishing port, picturesque marina and two main beaches. The town is separated by the Reguera Carrocedo river mouth.
On both sides of the river mouth visitors are spoiled for choice when it comes to wining & dining options. The superb local seafood of the region features on many tapas bar and restaurant menus.
The stunning backdrop of Llanes is the Picos de Europa mountain range (picture above). The beautiful surrounding countryside makes this an ideal setting for visitors
Inland Costa Verde
Inland Costa Verde boasts crystal clear streams, lakes, and beautiful valleys. The mountains are covered in lush green forests. With the many camping opportunities, this is a nature lovers paradise.
For over 300 kilometres, the Cantabrian Mountain Range forms much of the inland areas. This mountain range includes the spectacular Picos de Europa. The highest point of this mountain range reaches an impressive 2,648 metres. Some parts of the coastal range form huge cliffs rising above the sea. Other parts are the source of some of Spain's most important rivers such as the mighty Ebro.