The weather in Fuerteventura in March is a shade cooler than some of the other Canary Islands. This month generally yields an average temperature of 18 Celsius.
This is still nice and warm if you are heading to this island for some winter sun. The end of March sees the arrival of spring when the temperature begins to increase more. Fuerteventura is quite close to the Sahara which can often make things warmer here. It's also the northernmost of the seven islands which can be quite chilly around this time.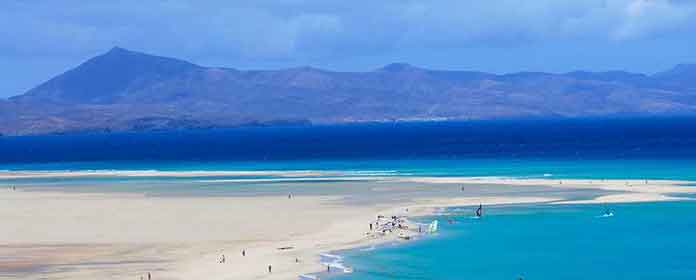 Weather in Fuerteventura in March
The weather in Fuerteventura in March sees a daily high of 22 Celsius. This can depend on the direction of the wind on windy days. An eastern breeze from the Sahara Desert will often raise the temperature a shade. Usually a breeze coming from the north will cool this island more. The daily low here is 16 Celsius, it's unlikely to get much cooler even at night.
The start of the month will see an average temperature of 18 Celsius. Towards the end of the month this will increase to 19 Celsius. As spring arrives, the temperature improves each month before peaking in summer.