Menorca is Spain's easternmost Balearic island. This island is also one of the most beautiful and unspoiled. Even the capital, Mahón and former capital of Ciutadella are very laid back.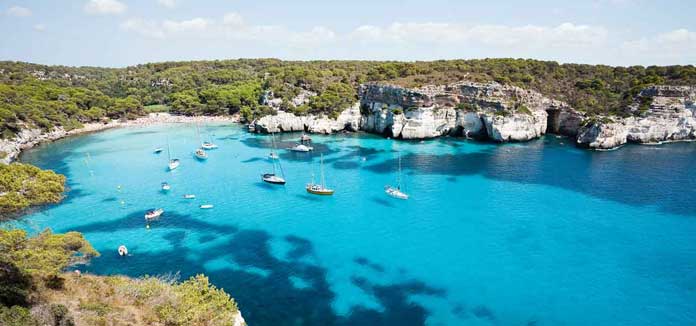 This islands boasts over 200 km's of coastline. This comprises of many beaches and bays. Broken up here and there are beautiful pine forests. These reach all the way to the sea and rocky coves favoured by local fishermen and snorkelers
Menorca Climate
Add to this a glorious Mediterranean climate of sunny summer days and mild winters. The gentle rains bring the surrounding countryside to life. Here you will find lush vegetation and wildflower. Menorca is an island that appeals to the more discerning traveler seeking a gentler pace of life.
Menorca may not have the legendary nightlife found in Ibiza and Majorca but it's far from boring. This beautiful island attracts many holidaymakers seeking thrills and excitement. Sports and leisure facilities such as hiking, cycling. Horse riding, rock climbing, golf and an excellent choice of water activities.
Beaches of Menorca

The majority of Menorca's fantastic sandy beaches are family friendly. Depending on the popularity of the beach, most offer facilities. The include lifeguards and showers. beach sports, sun loungers and parasols. Most of the beaches lie in small coves. Some of the most popular being Cala Turqueta, Cala Trebaluger and Cala Macarella.
Further family fun can be had in the several water parks in Menorca. All parks offer exciting slides and rides for all age groups.
Mahón, Nightlife in Menorca

One of the most lively areas on the Island for great nightlife is Mahón (or Maó) harbour. This is where the cool, hip and trendy party the night away. Here you will many venues which get their groove on during the busy summer months. There venues often stay open until the early hours.
There are many family friendly bars featuring fun entertainment. Most offer quiz nights, Karaoke and bingo.
There are casinos for those who fancy a flutter. The younger party crowd can enjoy the latest tunes in Menorca's late night discos.