PortAventura World is a huge leisure and entertainment resort located in Salou, Spain. It lays claim to being the largest resort of its kind in the south of Europe.

This is easy to believe with a staggering 7 fantastic themed hotels within the resorts grounds. There is also a superb camping area, great for large families. As of 2017, PortAventura World opened a new attraction called Ferrari Land which also has its own hotel.
The 7 Worlds of PortAventura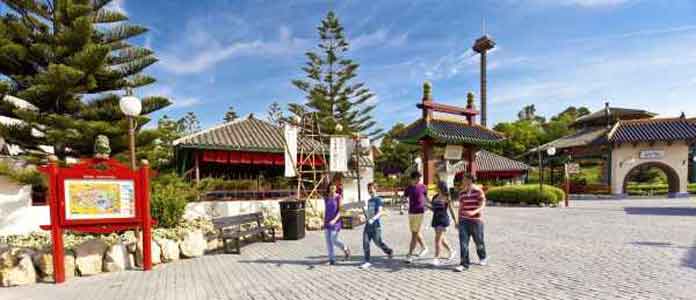 PortAventura World comprises 7 large themed areas. Each of these boast their own rides, shows, entertainment, hotels, shops, bars and restaurants. These areas include China (picture above), offering an exotic taste of the Far East with its very own miniature Wall of China. Far West will have young cowboys and cowgirls reaching for their six gun pistols. A miniature Mayan pyramid waits to be explored in Mexico. Getting lost in the rivers and jungles of Polynesia is a thrilling adventure. Mediterránia boasts a wonderful European flair. Sesame Street is a favourite with the young ones, and Ferrari Land thrills visiting petrol heads.
PortAventura World Rides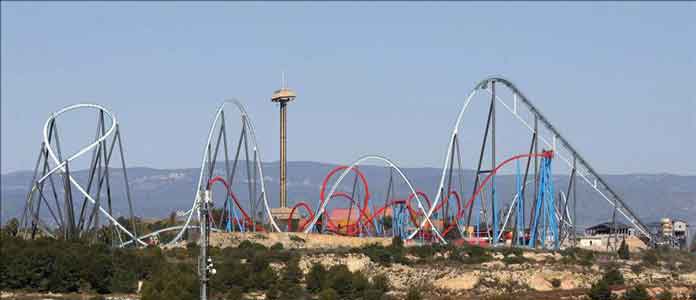 In total there are 42 rides offering something for all age groups. These are grouped into Intense, Moderate and Child. The highest ride in the park is Shambhala (picture above), located in China. Also in China is the exciting Dragon Khan roller coaster. One of the most terrifying rides in the Intense category is Hurakan Condor. This is located in Mexico and boasts a free fall of 100 metres. The moderate and child rides at PortAventura World are just as fun for kids.
In addition to these fantastic themed areas is Caribe. This is a spectacular water park, perfect for those scorching summer days. Here visitors can enjoy a total of 17 rides. There are both indoor and outdoor areas as well as huge pools. These include the Bermuda Triangle, Sesame Beach and Bahama Beach. Throughout the themed areas are a total of 21 restaurants. These also include cafes, bars, kiosks and ice cream parlours. Lastly, don't miss a visit to the newly built Ferrari Land where you will find 11 fun 'fuelled' rides.