The weather in Los Cristianos is good all year albeit a touch cooler than other parts of Tenerife. Here, the typical yearly weather yields an average temperature of 17 Celsius. The summers are nice and hot with the winters quite mild.
Los Cristianos is one of the top resorts in southern Tenerife. An increase in popularity has seen this resort expand inland from the coastal areas. The town itself has also seen it's population growing from a few thousand to over 20,000.

Weather in Los Cristianos, Tenerife
The weather in Los Cristianos is at it's hottest during July, August and September. The average temperature during these months is a pleasant 22 Celsius. You can expect this to exceed 30 Celsius plenty during the hotter months.
The coldest times of the year here are January and February which can see the temperature drop to 15 Celsius. Entering spring is when the temperature will begin to rise again. The hottest months are July, August and September. The average daily temperature during these month is around 22 Celsius.
Sea Temperature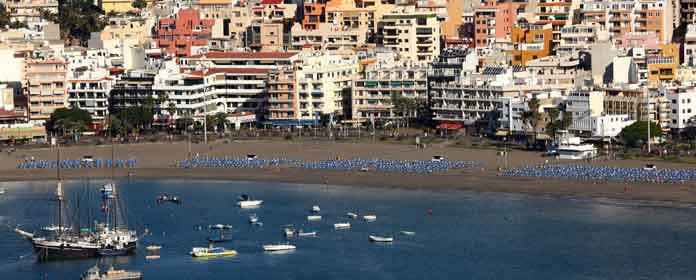 The sea temperature in Los Cristianos is a warm 20 Celsius on average each year. 19 Celsius is the coldest the sea gets from January until April. Please check here for the current sea temperature and forecast.
The sea is at it's warmest temperature of 23 Celsius during August, September and October. November falls to 22 Celsius before December sees a further drop to 20 Celsius.
Hours of Sunshine
The hours of sunshine in Los Cristianos are at their lowest during January and December. The amount of sunny hours drops to 6 during these months. June, July and August have the most hours of sunshine. You can expect at least 10 hours of sun during each of these months.
Monthly Temperature
Below is a graph of the average monthly temperature in Los Cristianos, Tenerife. Please click image for full size.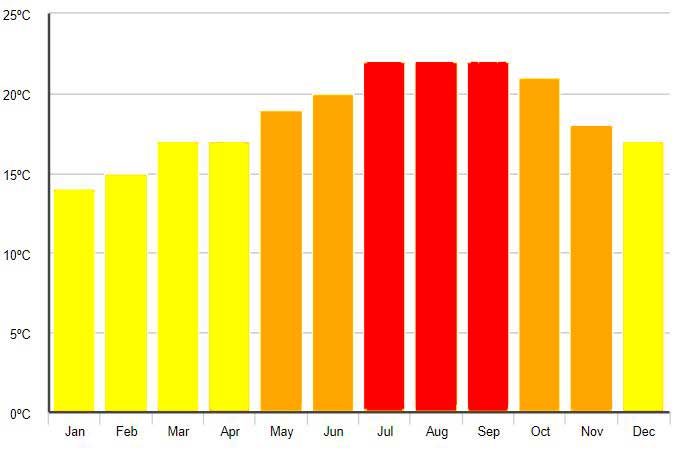 Rainfall in Los Crisitanos
December is when most rainfall will arrive and likely double the amount of most months of the year. November, January and February also see quite a bit of rain. April is the second rainiest month of the year. The rain in April when it arrives will likely be significant.
The hotter summer months have very little rainfall to speak of. You will not see more than 1 days rain per month during summer if at all. The amount of rainfall will increase each month from September until December.