The climate in Tenerife is generally pretty good all year round. Here you will experience warm summers and mild winters. Tenerife, like all the Canary Islands enjoys a subtropical climate. Even when there is heavy rain, the temperature remains mild.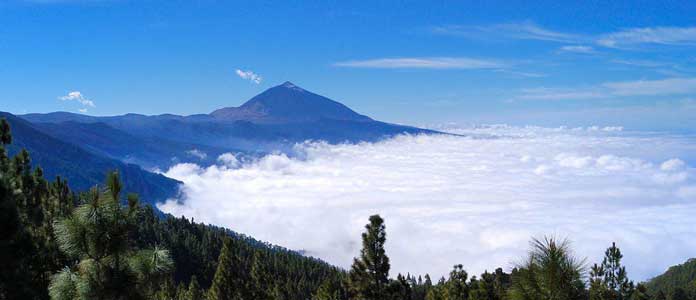 Please click the quick links below to navigate to the month of interest.
Climate Averages in Tenerife
Tenerife is the largest of the Canary Islands for land mass and population. It also attracts more visitors than any other island each year. It's estimated that over 5 million tourists jet off to this beautiful volcanic island every year. The main reason for the high level of tourism is the excellent climate in Tenerife. This island is also one of the warmest places to visit during winter and spring as the temperatures further north are freezing.
The temperature during the colder winter months falls to 17 Celsius but not much lower. There are a few exceptions where the altitude will make temperatures much cooler. The Anaga Mountains in the northeast of the island and Teide Volcano in the centre.
Temperature Averages
Our weather graph below shows the expected monthly temperatures in Tenerife. At the bottom you can see how many hours of sun each month has.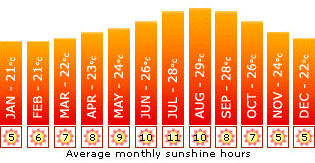 Climate In July, August & September

July tends to be as warm as August for long spells of the month with little to no rainfall. The average temperature will now be around 29 Celsius most days, many more will be around 35 Celsius. July has recorded a temperature high of a sweltering 42.9 Celsius. This month can seem uncomfortable if you are not used to the high temperature. It's advisable to make sure you have some sort of air-conditioning to make sleeping easier. The sea temperature will remain around 22 Celsius and there will be around 10 hours of sunshine.

August is almost a mirror of July apart from more days exceeding 35 Celsius. The average daily temperature is now around 30 Celsius. Like July, there is precious little rainfall around so you will be lucky to see even 1 day of rain. The sea temperature will now be approaching a warm 23 Celsius. There may be slightly more hours of sunshine than July. It's still a good idea to make sure you have access to some fans or air-conditioning.

September is the end of summer but the hot temperatures will be around for a while yet. The temperature begins to drop but with plenty of days still topping 30 Celsius. The average daily temperature is now 28 Celsius.
Tenerife South Airport has recorded a temperature high of 41.8 Celsius. September sees an increase in rainfall but this is unlikely to be more than 3 or 4 days. The sea temperature rises to a year high level of 24 Celsius during this month.
Sea Temperatures
The image below highlights the average Sea temperature in Tenerife in each calendar month. You can check this resource for current and yearly sea temperatures.