The weather in Benidorm in April is improving as spring sees an increase in temperatures. This is quite a popular month for tourism, especially towards May and the end of the month.
The daily average temperature now increases to 15 – 16 Celsius. The rainfall decreases during April although not by much. The yearly climate here is generally excellent with hot summers and mild winters. The evenings will begin to warm a touch in April and the hours of sun will increase.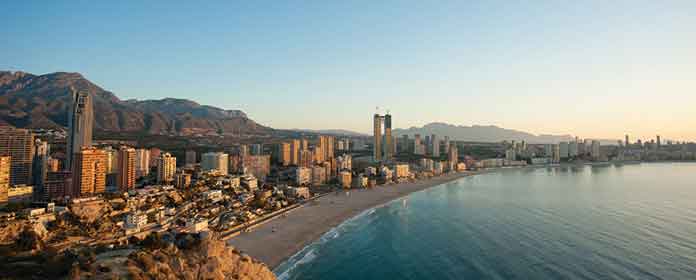 Benidorm Weather in April
The daily high temperature in Benidorm during April is a warm 20 Celsius. The end of the month will see a further increase that will be closer to 22 Celsius. Some days closer to May can be warm enough to see more activity on the beaches which are famous here. The popular promenade that runs alongside Levante beach will be a buzz of activity now. If you plan to visit during April then the daily low will be somewhere around 10 Celsius.
The weather in Benidorm in April tends to see a increase in tourism from previous months. With spring now in full swing the temperatures will only increase until the height of summer. This is true for both the outside temperature and that of the sea. Between the months of May to September are usually the hottest if you want to see more beach action.
Hours of Sunshine
The hours of sunshine in April now increase to 8 hours from 7 during March. This is thanks to the arrival of spring which yields an increase in temperatures. The hours of sun will increase each month before peaking at 12 hours in July. Some of the south facing beaches such as Levante will see more hours of sun than others in April.
April Sea Temperature
The sea temperature in Benidorm during April warms to 16 Celsius from 15 in March. This is still on the chilly side if you are thinking of going for a swim. Towards the end of April may be warm enough as the temperature increases to around 18 Celsius. You can check this good resource to know more about the current and future sea temperatures.
Benidorm April Weather
Below are some facts about the weather in Benidorm in April.
The average daily temperature is 15 – 16 Celsius
The Sea temperature increases to 16 Celsius
Hours of sunshine increase to 8 from 7 in March
Average of 7 – 8 rainy days during April
Daily high of 20 Celsius
Daily low of 10 Celsius
Rainfall
April tends to see an average of 7 – 8 days of rainfall. The precipitation decreases a touch from March but this is still quite a wet month. Benidorm does not have many barren months devoid of rainfall. Areas of the Costa Blanca to the south are usually much drier. If you are heading to Benidorm during April then there is a good chance of seeing some rain. May is usually even wetter which may come as a surprise to some.