The weather in Ibiza in April improves a touch in most areas as spring gets under way. The average temperature begins to increase with winter now behind.
Ibiza is close to the Spanish mainland and sees better weather than Majorca in April along with the other Balearics. Most of the other Balearic Islands are still on the cold side as Ibiza begins to warm up. April sees the level of tourism begin to rise. This is especially true towards the end of the month as the temperature increases again.
Quick Navigation Links
Below you can find detailed information about what sort of weather to expect in April. This includes average temperatures, expected rainfall and hours of sunshine.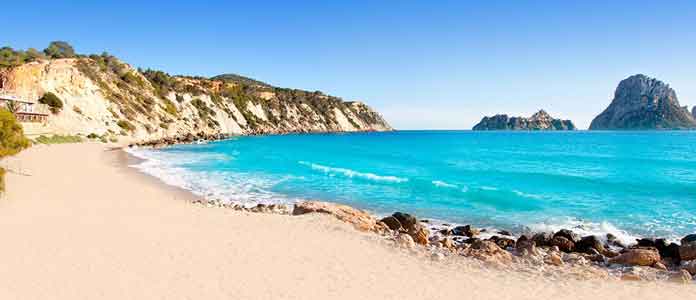 Weather in Ibiza in April
The daily high temperature in Ibiza during April is 19 Celsius. This will increase again towards the end of the month. The average of 12 Celsius is still a touch on the cold side but again, this will seem much warmer closer to May.
The weather in Ibiza improves in all areas apart from the amount of rainfall. You can expect an increase in the sea temperature and the hours of sunshine. The outdoor temperature will also improve enough to ditch the winter clothes. April is not the best time to visit if you want beach action. The best times to hit the beach are usually between May – October as it gets warmer here.

Sea Temperature

The sea temperature in Ibiza during April now increases to 16 Celsius. Only the first 3 months of the year will see the sea colder than this month. The sea does get a touch warmer towards the end of the month but it's still on the cool side. May will see another increase in the temperature, as will each month until August. You can check out this link for current and future sea temperatures.

Rainfall in Ibiza in April
April on average can see more rain than any other month apart from October. More rainfall arrives during this month than any of the other spring months. Usually there will be around 7 – 8 days of rain but the precipitation can be heavy. There is no major decrease in rainfall until June at least. Ibiza does not tend to have barren months with no rainfall like some of the mainland. Whenever you visit this island, there is a good chance of seeing some rain.
Weather in April Highlights
The average daily temperature is 16 Celsius
An average daily sea temperature of 16 Celsius
There are 10 hours of sunshine which will increase towards the end of the month
Average of 7 – 8 days rainfall which can yield high precipitation
Only October sees more rainfall on average than April
The daily high temperature here is 19 Celsius
Daily low of 12 Celsius which increases as we approach May