The weather in Costa Adeje is among the best to be had in Tenerife. Adeje's southwestern location yields some of the warmest temperatures on the island. This resort has the best yearly weather in Tenerife thanks to it's super location. The summers here are hot with the winters mild.
The volcano Mount Teide lies in the path of any colder northern winds and weather fronts. The highest point of Spain protects some of the top resorts in Tenerife. Playa de las Américas, Los Cristianos and Costa Adeje are some of those resorts.
Weather in Costa Adeje, Tenerife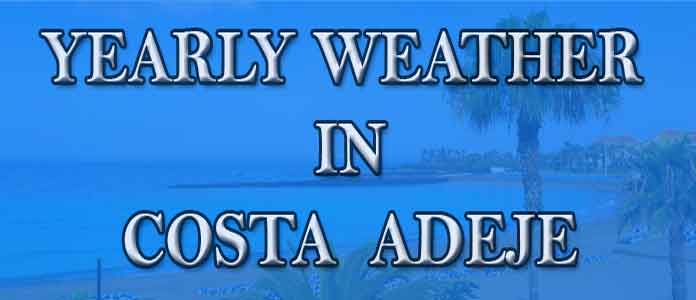 The average yearly temperature on the Costa Adeje is a warm 19 Celsius. The coldest months are January and February when the temperature falls to 18 Celsius. The temperature begins to increase in the spring months of March and April.
The weather in Costa Adeje is at it's hottest during the months of August and September. The average temperature will climb to a yearly high of 24 Celsius. In October the temperature begins to decrease again. Each month will see a small reduction in temperature until January.
Rainfall in Costa Adeje
November sees a big increase in the amount of rainfall. In December this rain increases again to it's highest yearly level. The next 3 months also see quite a bit of rainfall but less than the previous 2 months. From January to March, the amount of rainfall is very similar. Each month will see around 8 days of rain on average.
April, May and June see a gradual decrease in the amount of rain before rising again in July. The months of July and August do not see much rain, there will likely be 2 days at the most. September will see a sharp increase in the number of rainy days. From October until December there will be further large increases in rainfall.
Sea Temperature

The sea temperature in Costa Adeje remains warm for most of the year. The average yearly temperature of the sea is a pleasant 21 Celsius. February and March are the coldest months when the sea will drop to 19 Celsius. January, April and May are a touch warmer at 20 Celsius.
The sea temperature increases to 21 Celsius for June and July. August, September and October are when the sea is at it's hottest. You can expect a warm sea temperature of 23 Celsius during these months. November sees the temperature dropping again to 22 Celsius. A further drop in December and January will yield a temperature of 21 Celsius. You can check here for the current sea temperature.
Hours of Sunshine
Both December and January have 6 hours sunshine on average per day. These months share the fewest hours of sun. February, April and March all the 8 hours of sunshine. There is an increase to 9 hours during May.
June, July and August all see 10 hours of sunshine. These months enjoy more sunshine than any other. The hours of sun drop to 7 for September, October and November