The weather in Lanzarote in February sees a small improvement from January. February is the second coldest month here and the last winter month.
Quick Links
The average temperature now increases to 18 Celsius from the 17 Celsius in January. Lanzarote is a popular destination during the colder months with some super resorts to enjoy a warm winter break. 18 Celsius is a vast improvement on the temperatures on offer in northern Europe.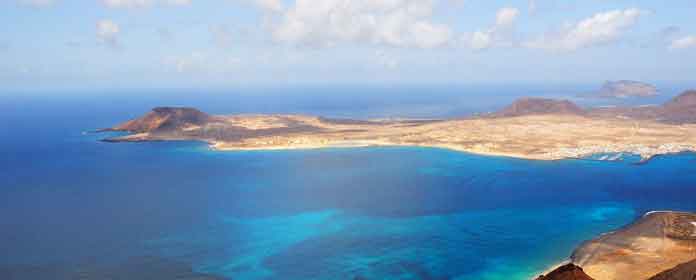 Lanzarote Weather in February
The weather in Lanzarote in February sees a warm daily high temperature of 21 Celsius. The daily low and night time temperature is now 15 Celsius. This island is well known for having some of the hottest European temperatures during February. The record high temperature here during this month is 29 Celsius.
The warmest temperatures tend to arrive towards the end of the month closer to spring. It's usually cooler here at the start and during the middle of February. From March, the average temperature will increase each month before peaking in August.
Sea Temperature
The sea temperature now falls to it's lowest yearly level of 18 Celsius. Only March sees the sea as cold as it will be now. This may be on the chilly side for some but not those who enjoy water sports. Lanzarote has a vibrant water sports scene with surfers taking advantage of the vast beaches. If you are here to give surfing a try then Lanzasurf offer many types of courses.

February is the second wettest month of the year in Lanzarote. Only December sees more rain which is the case for all the Canary Islands. On average there are 3-4 rainy days with quite high precipitation levels. The next 3 months will see a decrease in rain each month before the barren summer months.
Lanzarote Weather in February
February yields a daily average temperature of 18 Celsius.
The high now is a warm 21 Celsius with a low temperature of 15 Celsius.
February and March see the temperature of the sea fall to it's lowest yearly level of 18 Celsius.
The hours of sunshine on offer are now 7 hours which will improve towards March.
This Canary Island has seen a record temperature of 29 Celsius during February.
Only December here sees more rainfall than February on average. It will usually rain for 3-4 days during this month.
Other Canaries in February
Hours of Sunshine
February tends to see 7 hours of sunshine each day on average, the same as January. Only December sees less hours of sun throughout the year with only 6 sunny hours. March sees these hours increase to 8 with further increases in April and May.