Are you searching for the warmest places in Europe for a winter break? If so, the weather in Fuerteventura in December should be exactly what you are looking for. This island enjoys the hottest temperatures across the Canaries now.
The climate both here and Lanzarote now is very similar with a few small differences. Below we provide in-depth information about what you can expect if paying a visit now. We will also offer an insight into some of the top resorts with their conditions.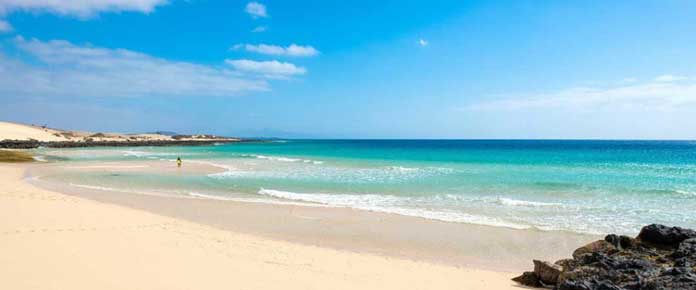 Why Is The Weather In Fuerteventura In December Hotter Than Other Canaries?
The weather in Fuerteventura in December is hotter due to this island's location. Like Lanzarote, both lie closer to the western coast of Africa and the Sahara Desert. The temperatures for these islands are usually warmer than those to the west. Gran Canaria, Tenerife and the other smaller destinations tend to be a few degrees cooler now.
Fuertventura during December enjoys a warm outside temperature of 19 Celsius. If you pay a visit earlier in the month then you could see this closer to the daily high of 22 Celsius. The low temperature for this month remains a respectable 16 Celsius on average. In 2019, conditions were excellent with every day recording a temperature between 18-20 Celsius.
December Ocean Temperature
The Atlantic Ocean temperature decreases 1 Celsius from November to 20 Celsius. Still warm enough to enjoy beach action on hotter days which are plentiful in December. You could find the sea temperature is warmer during the first week of the month. The year low of 18 Celsius arrives in January which will not increase until April.
Rainfall in December
December is the wettest month in Fuerteventura as is the case for most of the Canaries. This month usually sees double the rainfall of February which is the second wettest. This is not always the case though, there was no rainfall in 2019 so December could remain dry.
Fuerteventura in December Temperatures
Fuerteventura enjoys the warmest weather during December of the Canaries. The typical outside temperature is a warm 19 Celsius with a high of 22 Celsius.
December will not usually see more than 3 rainy days. In 2019 there was no rainfall at all on record so it may remain dry all month.
The sea temperature now drops to 20 Celsius, it's warmer here than the Canaries to the west. Most should have no problem braving these conditions for swimming. You can check here to see the daily sea temperatures for December.
How Many Hours of Sun?
Sunny hours during December now decrease to 6 per day. This is the year low this month shares with January. Following month February will see another increase as will most months leading up to summer.