The weather in Gran Canaria in February is almost identical to January in many respects. February is the last of the winter months but still a great time to pay a visit to this island.
The average temperature in Gran Canaria in February remains a warm 18 Celsius. The spring months are usually when the temperatures increase further. Tourism will be building now but this is an ideal time if you like the warm weather but smaller crowds.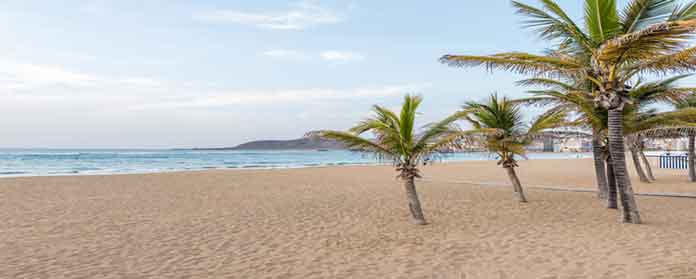 Weather in Gran Canaria in February
The weather in Gran Canaria in February is always at it's warmest at the end of the month. The start of the month feels more like January but tends to warm up as spring approaches. The best conditions are in the south of the island behind the mountains. The vast Roque Nublo and Tejeda peaks shield the southern resorts from the cold northern winds.
The high temperature on offer during February is now 21 Celsius. Towards the end of the month this will increase again. The low at the start and middle of the month is 15 Celsius. This could be a shade cooler in the evenings so make sure you pack a jacket.
Sea Temperature in February
The sea temperature remains at 19 Celsius which is also the case for the next 2 months. Gran Canaria does not see an increase in sea temperature until May, towards the end of spring. Most will find the temperature warm enough for a swim on sunny days. The popular resorts of Playa del Inglés and Masapalomas in the south will see beach activity now.
Rainfall in February
February is another month that sees quite a bit of rainfall. The winter months are when most of the rain arrives with December being the wettest. January and February see about the same amount of rain and rainy days. It's normal to expect 3-4 days of rainfall during this month.