The weather in Tenerife in February is like January in many respects. The average temperature is 17 Celsius but there is usually quite a bit more rainfall. This island still remains warm in comparison to northern Europe.
February is final winter month which sees the temperatures beginning  to climb again. This month is also popular for tourism with many heading south for winter sunshine. The all year round sub-tropical climate here yields spring like temperatures for much of the year. The summer months can still be very hot but the winters will remain mild.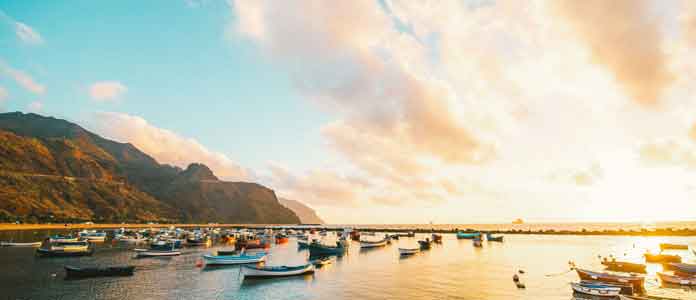 The southern areas of Tenerife are usually the warmest in February. The northern parts of the island are more lush and tend to see more rainfall. Even so, this temperature does not fall much bellow 16 Celsius which is still quite mild.
Weather in Tenerife in February
February can see the temperature creep up to 21 Celsius during the month. This is especially true towards the end of the month as winter is coming to an end. Spring will see an increase in the temperature and a decrease in the amount of rainfall. The daily low here during February is 14 Celsius but this is always much higher. Warm winds from the Sahara off to the east help to maintain the warm temperatures.
The weather in Tenerife in February is usually a shade warmer as the month reaches it's conclusion. There is only a difference of 1 – 2 Celsius during the whole month. The beginning and halfway through the month is when it's cooler here with more rainfall. The highest recorded temperature here was 30 Celsius in 1990. With this in mind, it's always a good idea to expect hotter weather than the averages suggest.
Rainfall & Sea Temperature in February
The days of rainfall during February increases to around 5 on average. The precipitation when it arrives tends to be more than most months. Only November and December record more rainfall than February. In fact, the rain will continue to decrease every month until November arrives again. The cities of Santa Cruz and Puerto de la Cruz tend to see the bulk of the rain. The rainfall in the northern areas is usually much heavier. The resorts in the south enjoy some protection from Mount Teide.
The Sea temperature drops to it's coldest yearly level during February. This is also true for March, the Sea during these months is the coldest in Tenerife. An average temperature of 19 Celsius will seem chilly for a swim. Those from much colder climates such as Scandinavia tend to enjoy a swim during this month. Towards the end of the month, the beaches will begin to see more activity.